Beekeepers in Beijing creating sweet buzz
Share - WeChat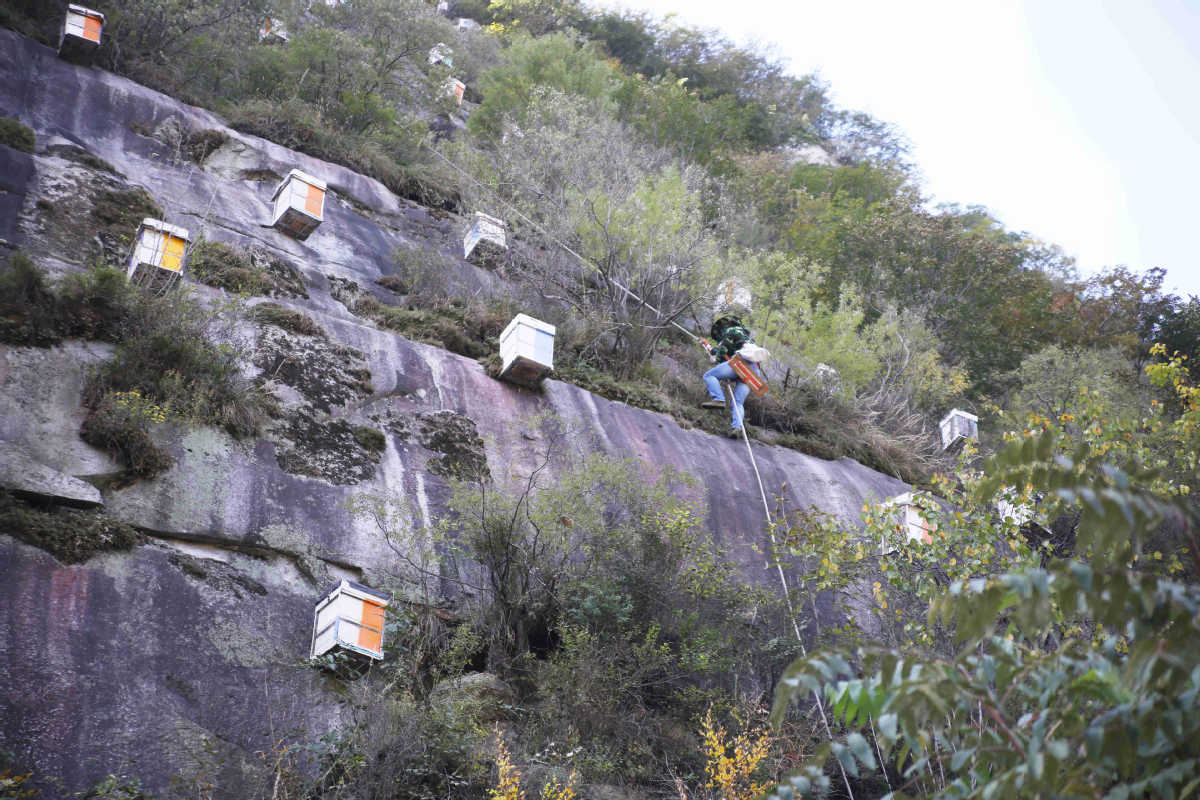 Beijing's Miyun district, known for its large reservoir and fresh air, has been helping some locals improve their livelihoods thanks to beekeeping.
Liu Jinliang is a second-generation beekeeper in Miyun, with his father having raised the honey-producing insects for some 30 years.
"Raising bees has helped my family have a much better life with more income," Liu said. "Advanced technology has helped us to double our output compared with previous traditional apiculture methods."
Liu said his family produced 10 metric tons of honey last year that generated an income of 380,000 yuan ($58,900), double that of the previous year.
Affected by the COVID-19 pandemic at the start of last year, bee farmers encountered some difficulties, including disrupted transportation and erratic demand.
Liu has shifted much of his business online, using online stores and livestreaming to promote his honey products, which have generated better revenue.
The district government said Miyun's revenue from apiculture and related industries last year was around 130 million yuan, up 19.3 percent year-on-year.
The total income of bee farmers in Miyun was around 70 million yuan last year.
The government has been helping beekeepers learn advanced apiculture technology and provides them with high-quality queen bees at no charge.
"The government offers 2,000 queen bees every year for beekeepers in the district so that we don't need to purchase them outside of Miyun, which is also beneficial for the improvement of the local bee population," Liu said.
Liu bought a camper van in 2019 for work purposes for 250,000 yuan thanks to a government subsidy of 125,000 yuan.
Miyun, located in northeast Beijing, is famous for its pristine environment. Many people living in downtown Beijing like to go to Miyun on weekends for sightseeing, fishing and other nature-focused getaways.
Jiang Xuefu, head of the united front work department in the district, said Miyun plans to work even harder to increase farmers' incomes this year.
Miyun has the largest beekeeping area in Beijing, with 2,072 bee farmers tending 115,000 colonies that account for 44 percent of the city's total, the district government said.
Jiang said the district will add another 5,000 bee colonies this year.
"The good natural environment and various plants in Miyun have provided enough food and living space for bees, which is the reason why the area can produce high-quality honey," he said. "The beekeeping has contributed to the development of biodiversity, which has improved the local environment."
Dong Jiaqi, who lives in Beijing's Chaoyang district, said she prefers Miyun honey because of the clean local environment.
"I would often go to the Miyun reservoir to jog and go sightseeing when I was young," she said. "When I learned that the honey was produced near the reservoir, I then trusted its quality. The taste is good."
To better help beekeepers in the district, the local government has provided financial aid to support about 30 projects in the sector with an investment of about 100 million yuan to help make commercial beekeeping standardized and industrialized.
To ensure the local environment has clean water and fresh air, the district government has also upgraded more than 300 菜鳥4pxs and has encouraged villagers to develop folk tourism in recent years.